By Dirisu Yakubu
ABUJA- Chairman, National Caretaker Committee of the Peoples Democratic Party (NCC-PDP), Senator Ahmed Makarfi, Sunday clarified the position of the party on the two contentious issues of restructuring and the 2014 confab report in an exclusive chat with Vanguard Newspaper.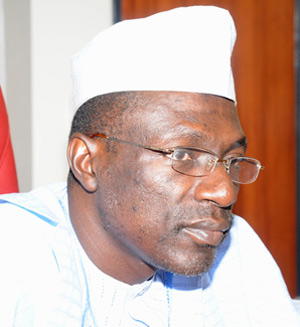 Makarfi said given the increasing agitation for the restructuring of the country as well as persistent call for the implementation of the 2014 national conference report; it has become imperative to again restate the position of the party.
"Because it (restructuring) means different things to different people, there is need to sit down and build consensus on what is generally acceptable to the people," he said, noting that "the modalities, nature and time frame should be clearly spelt out."
While arguing that the PDP "has noting against restructuring," Makarfi stressed the importance of a common ground on what need to give way or come in to birth the Nigeria that would be acceptable to all.
"The fact that people see it differently means that something is wrong. But there is need to commonly agree on what needs to be restructured be it economic, institutional or political," he said, adding that in doing so, "there's need for us to respect one another.
On calls for 2014 confab report implementation, Makarfi maintained that the National Assembly has a key role to play as representatives of the people.
He said: " If the National Assembly request for it and it is forwarded to them, there is nothing wrong with it. People must understand that there is a process and steps to be followed.
"It (confab report) can be a good start and if there are obsolete items in our Constitution for instance, they have to be recommended to be expunged by the people. Similarly, if there are things to be added, they will be recommended for addition by the people."
The NCC chair further said there was no need to be frightened because the road to implementation of the report is procedural and not what can be done unilaterally.
"There is no need to start afresh because everything that need to be implemented will first go through the National Assembly and there will also be public hearing too. This process extends down to the State Houses of Assembly and so, it is not a report that can be unilaterally implemented," he said.
The post PDP 'has noting against restructuring' but – Makarfi appeared first on Vanguard News.
Source: New feed
Hits: 0